1. Mya Petite (1 hose) Hookah 8 inch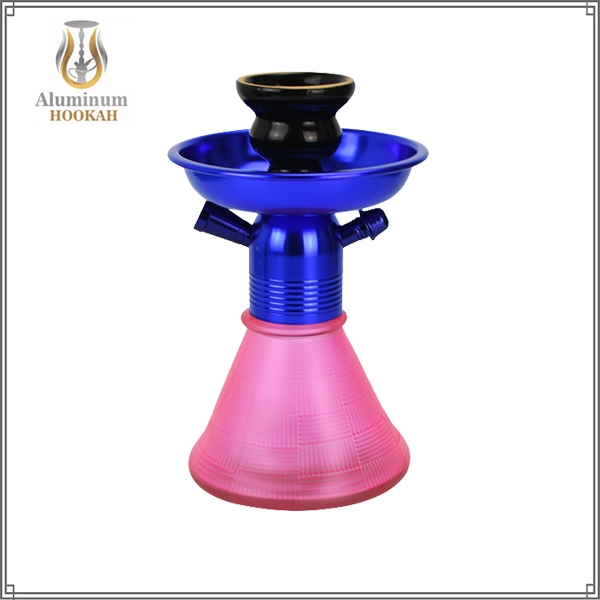 Introducing the "Petite," one of the world's smallest hookahs! A hookah pipe of short stature, the sweet Petite hookah pipe from the reputable Mya Saray smokes just as well as any of its more lofty brethren. This tiny hookah pipe stands at 8 inches tall and comes in six different colors of sturdy glass. A 6-foot-long Mya stamped hookah hose in included, along with a specialty ceramic bowl and all necessary grommets for an air-tight seal. This small hookah makes a unique gift and is perfect for first time hookah smokers!
Replacement Mya Petite glass bases can be purchased in our Small Mya Hookah Base section. Due to this hookahs small size, it will not come with a carrying case.

Our factory again in detail on this product has been changed, such as material, we changed to aluminum. We make the color of the stem more rich. We recreated the details of the product.
In our factory, MYA small hookah style we have a sample of the processing, we make the product more humane optimization. We provide a variety of bowls, bottles with the program, we also provide more color choices, this is our advantage. For example, we can use silicone bowls instead of ceramic bowls. Our professional wholesale hookah, PP bag to provide packaging, can also be color box packaging. If you need more style, then please contact us.

Whether 1 hose or 2 hose hookah, in our factory can be assembled according to customer's requirements.There are many MYA classic styles in our factory,like mya coppa hookah,mya qt hookah ,fancy hookah.Our quality is good, but the hookah wholesale price is very cheap.
2. Mya Mod QT (1 hose) Hookah 12 inch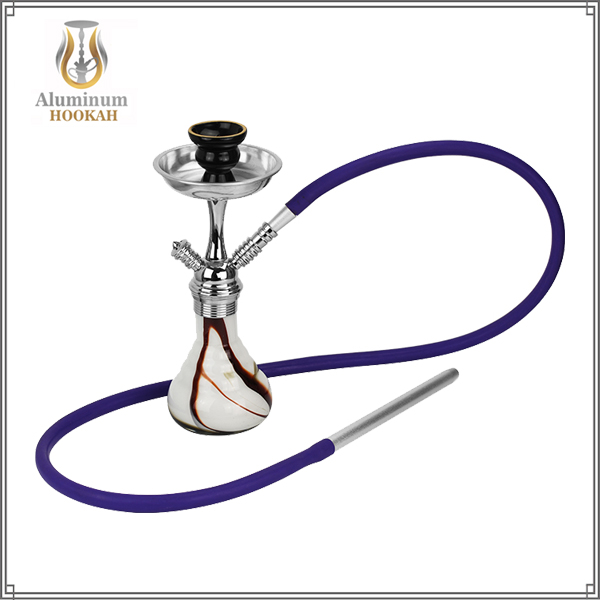 This style is a modification of mya QT and we have redefined its material. The use of aluminum polishing technology, it has a zinc alloy surface with the general luster. Even more rare is that we have more choices for the color of the hookah. We have optimized the details of the hookah, so that the classic style has a new beauty.
Just a glance assures you this is a Mya Saray original hookah pipe. Don't let the size fool you - this workhorse of a hookah is one of the most reliable you can buy. This hookah comes complete with a stainless steel shaft, a beautifully cut glass base (extra thick, extra strong!), and a matching 6 foot synthetic leather hose. The Mya QT hookah is available in a variety of colored glass base models and includes a pair of tongs, rubber seals, tray, and cleaning brush to keep your hookah clean and air tight.
Our style is very new, we provide a price list similar to mya. We wholesale hookah, we optimized mya style. In our place, we can find the hookah style you need. Mya hookah accessories here are also many styles, you can wholesale.

This piece we can with ceramic bowls, can also be used with silicone bowls, according to customer needs. Hose hose We use the silicone hose and aluminum handle, although the price is higher, but the feel is very good, feel better than the wooden handle much better. The advantages of our wholesale hookah is that we can customize the solution according to the needs of customers, also can choose the wooden handle, so the price is cheaper.Each connection, we use silicone seal, non-toxic and tasteless. Ensure the air tightness. Our aluminum alloy can last longer than 60 years and is a very good material.

3. The smallest beer bottle hookah(1 Hose Hookah)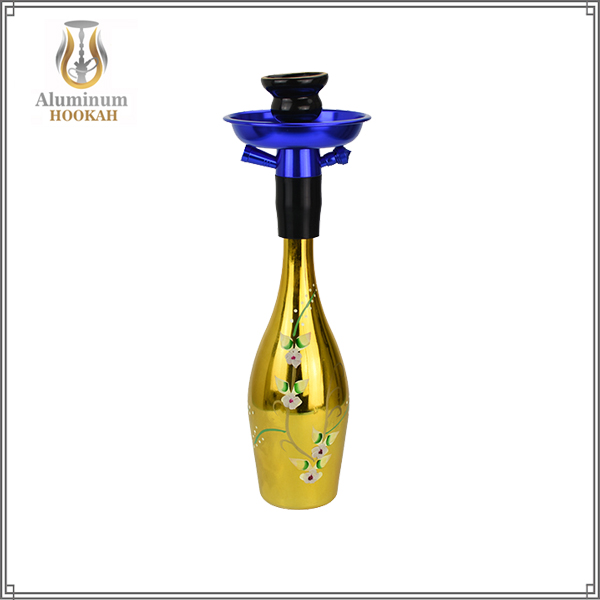 This is the world's smallest portable hookah, aluminum alloy material, the color is very rich, black, blue, red, green, silver, gold, as long as you want to the color we can wholesale production. As long as you have a small hole around the beer bottle, you can let you enjoy smoking. Is not it great, we can wholesale this hookah. Product accessories include, plates, stems, sewer pipes, seals. In particular, it is important to stress that the sewer pipes are all customizable, and the length of the sewer pipe is about 7 inches longer than normal, so you do not have to import too much water into the bottle, which is very handy. In addition, our tightness is very good, although most of the beer bottles are some differences, but we can be used to seal the sealing ring is very good. In addition, we have a small seal in the connection to seal it, to prevent the entry of air, it can be said that the entire product sealing is very good. We welcome everyone to our factory to buy hookah. Especially the hookah accessories wholesale are also very welcome.
4.Starbuzz Model Mini Hookah(1 Hose Hookah)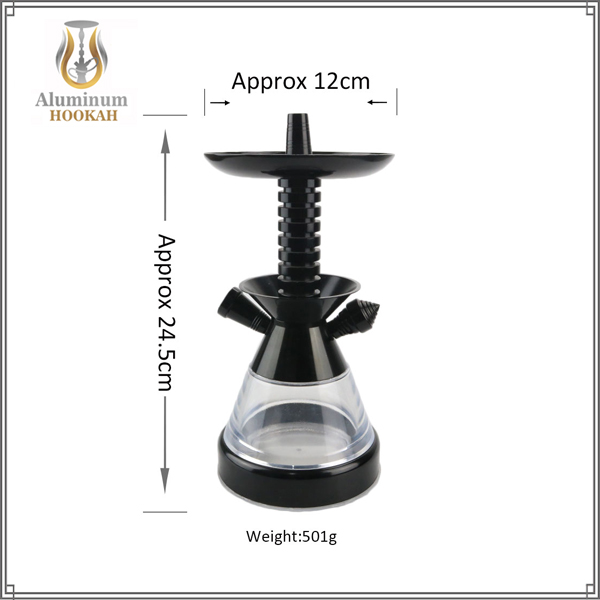 This first model is known as the Starbuzz Mini Hookah. We re-created in the classic style, from zinc alloy material into an aluminum alloy, make it glow life. Its color has become richer.You may worry about the performance of a small hookah pipe like this, but fear not, the Starbuzz Mini pumps out huge clouds just like the big boys do.
The hookah base has a very wide footprint for extra stability and features a see through acrylic window so that you can easily see the water level in your base. This hookah has a very modern design overall and comes with a 5 foot long hookah hose, a ceramic mod-style bowl, and all of the hookah gaskets needed to ensure an air-tight seal at all connection points. This bottle is very characteristic, not the general glass, using acrylic material. We use aluminum technology with ultrasonic technology, make it perfect combination with the bottle. As the bottle is very large, we can also add LED lights inside, then in the evening, the colorful light is very fantastic, let you fly.We wholesale hookah accessories, any hookah hose, hookah bowl can choose to match. Sealability is very important, we have a seal on every connection.Sample anodized aluminum plate surface treatment, the surface layer of dense oxide film, even if the high temperature ash fall, just rinse with water can be removed, do not worry scalded. The diameter of the plate is very large, is a good container for storing soot.In our factory, customers like to wholesale this hookah. Some customers choose to lengthen the stem, making it a medium hookah, even a large hookah. This piece is a single hookah hose, we can match 2 hookahs. So in our factory, any ideas can tell us, in our factory, can find the style you need!
Product features & our advantages
We are a manufacturer, we have more than 10 years of manufacture of hookahs, our main aluminum hookah and hookah accessories. Because of the birth of a good product, first of all must have good material. Before you know the product, first introduce the advantages of aluminum.
1. low density
The density of aluminum and aluminum alloy is close to 2.7 grams /, about 1/3 of iron or copper.
2.high strength
Aluminum and aluminum alloy high strength. After a certain degree of cold workmanship can be strengthened matrix strength, some grades of aluminum can also be strengthened by heat treatment.
3.good thermal conductivity
Aluminum conductive thermal conductivity after silver, copper and gold.
4.good corrosion resistance
Aluminum surface easy to naturally produce a dense and solid layer of AL2O3 protective film, can well protect the substrate from corrosion. By artificial anodization and coloring, cast aluminum with good casting properties or machined plastic good deformed aluminum can be obtained.
5.easy processing
Add a certain amount of alloying elements, you can get good casting performance of cast aluminum alloy or plastic processing of good deformation of aluminum.
With such excellent materials, we finished anodized aluminum with a series of complex shapes. Anodization can significantly improve the corrosion resistance of aluminum alloy, improve the surface hardness and wear resistance of aluminum alloy, after proper coloring treatment has good decorative properties. The colored film formed on the surface has good light resistance, heat resistance, corrosion resistance and wear resistance. It is with anodizing, our aluminum alloy hookah color choice is very rich, we show on the page pictures are just some of the conventional colors, we can customize the color according to customer requirements, this is the other material can not be achieved.
Small Hookahs are also very popular in Hookah lounges and cafes that use high table tops, low lounge seating, and bar seating. Small Hookahs allow for easy conversation and enjoyment without the Hookah getting in the way. Typically, Small Hookahs are more cost effective and offer the same functionality as larger Hookahs.
According to our analysis of the export of hookahs in these years, we concluded that the sales volume of mini hookahs is the best. Especially in France, Germany, Belgium and other places, people prefer the small hookah.
Here I show some of our hookah samples, more styles, please contact us.